Hey guys, Hans here with Nice Entertainment.
I want to show you how to create your very own wedding website with a personalized domain using squarespace.com
What's really cool about Squarespace is that you can incorporate some of your music elements into your your website. Like your first dance song, you can have it playing while your guests are scrolling around.
Spoiler alert! When you book with Nice Entertainment, we will give you a link that you can put on your website, that your wedding guests can pre-request songs.

Let's get started
First, we're going to go to squarespace.com
One of the hardest things is deciding what you're going to name your domain.
Domain Name Ideas…
Both First Names
Both Last Names
Hashtags
Names & Wedding Dates
Make the domain whatever you like… it's yours :)
So let's say in my example... my wife's name is Angela and my name is Hans. So we'll make our domain name "Hangela2018.com" haha
I don't know if that's EXACTLY what you would do but... haha, for this example, we'll go with hangela2018.com
To get the domain on Squarespace, it does cost $20, but I think it's worth every penny.
RSVP's
One of the most important things your wedding website can do for you is help people RSVP. I love the fact that when they first land on your homepage, there's a huge RSVP button that will send your guest to the RSVP page. There, they can put in their name, email address, who they're bringing, etc
This is REALLY cool… If you go into edit, double click the contact form, hit the storage tab - it will ask "Where do you want notifications sent.
This is REALLY REALLY cool… If you connect this to your Google Drive, everyone that fills this form out will be in one Google sheet that you can print out. It's all there... so simple, so nice, and we're just getting started.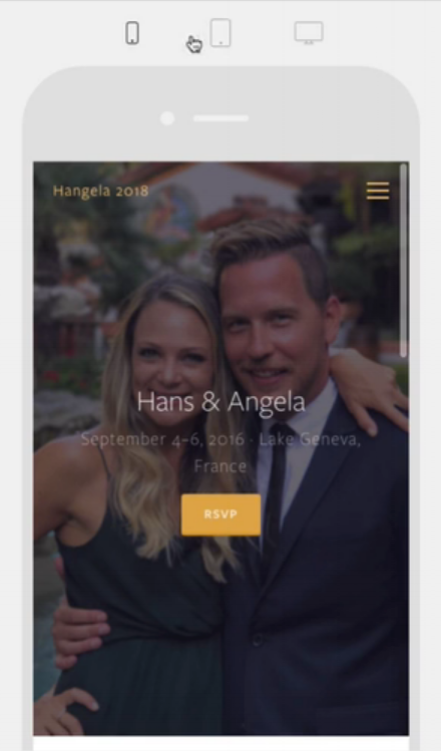 If you want to see how it looks on a phone, ipad, or computer you can hit the tab at the very top of the edit page.

As you can see the RSVP button is front and center and everything looks great on all devices.
Add Music
Let's say you wanted to get a little more creative. You can add your first dance song by clicking edit on the page, click the insert line, and you are going to put in a code.
Go to Spotify, click on the share button and find the code needed. Then simply copy and paste.
In this example, I added my first dance song, Better Together by Jack Johnson (yeah we've been married ten years).
You can add Spotify playlists, Youtube videos, or Soundcloud songs by adding this code. It's a great way to personalize your page.
Guests Requests
Did you know guests can make their own requests?
Here's how it works… when you book with nice entertainment, we have an incredible "client portal" where you can log in and pick your must play & do not play songs.
You can make a button on your page connect to our our client portal and your friends & family can pre select songs. This stays in a separate folder than your must plays and do not plays. We only look at this to get a feel for the crowd.
Of course we never play anything that is on your do not play" list, but it's just a cool way for guests to feel like they're a part of the action.
Why is a DJ company showing me how to build a website?
You may be asking yourself "why is a wedding entertainment company so excited to share this website building tool with people getting married?"
Here's three reasons:
I just like helping people
I secretly enjoy building websites
The name of our company is "Nice"
Check out more of our most popular blog posts below, or visit our podcast page to listen as we reveal what really does make a nice wedding.
Getting married? Request More Info.
 
You may also enjoy these blog posts...